Tech Resources
Room 410, Maker's Space, house most of our tech equipment that is available for checkout. A panel of the whiteboard dedicated to signing out the equipment. Please right your name, item and date of check out.
We also have 26 iPad-2s
LEGO Education WeDo 2.0 Core Set is a hands-on STEM solution that combines the LEGO brick, classroom-friendly software, engaging standards-based projects and a discovery based approach.
Tablet/Smart Phone/Camera Tripod (x5)
There are 5 durable and versitile tripods with caring cases. We also have a few less substantial tripods on the maker cart.
Use these Lapel Mics to discreetly record yourself by clipping it to your clothes and connection it to your preferred device via the headphone jack.
This mic only works on Apple devices with a lightening power jack. It has an external input level adjuster and is perfect for recording several people talking.
This highly sensitive mic plugs directly into your computer for studio quality recordings. Be sure to hav a quite space because this powerful mic will pickup the tiniest of noises.
This high quality mic is designed to work with most SLR cameras. It can also be mounted on a little tripod.
Sphero fuses physical robotic toys, digital apps, and entertainment experiences to unlock the true potential of play and inspire tomorrow's creators. (12 in the portable charging case).
mBot is a STEAM education robot for beginners, that makes teaching and learning robot programming simple and fun.
We have five walkie talkies that could be bennifical during field trips.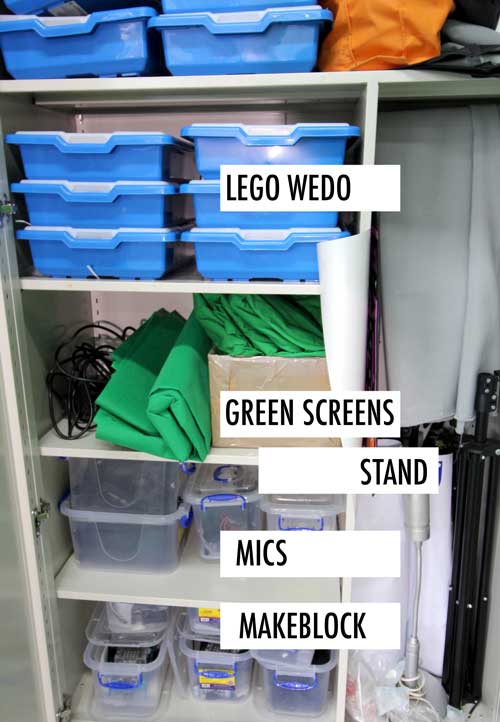 The back wall of 410 has been painted green to unlock the limitless potential of creating dynamic videos. There are plenty of fill lights to help you smoothly swap out your background with any image or video you can conjure.
We also have several other portable green screens to set up in your classrooms or where every it suits you filming needs.
Subject Resources
Each section we have designed for you to explore different resources,

techniques and software/apps for teaching subjects, techniques and skills for both yourself and your students. Learn how to make your lessons more interactive and even experiment with different ways to flip your classroom.